-----------------~= SUMO 2.28.98 =~----------------
This page is a modified version copied from http://web2.airmail.net/factory1/frame.htm
Sumo went down in Denton Sat, and this party truly RAWKED!
Definitly one of the better parties to hit the metroplex since Full Circle's last
party which I sadly missed now that I saw how well he puts various elements
that make a party warm and fuzzy with dynamic mixes of various styles of
music ranging in the main dance tent from a very high energy house, to
psychedelic trance and european style break beats. In the second hanger area
there was various hip hop and finally a nice ambient later in the eve.. This
party is a fine example of not going over budget and over hype, but using good
ol' imagintion and hard work to put together a visually stunning, a warm
environment with much to explore to suite all kinds of tastes.
The Vibe is Alive Again! and I hope to see much more from Full Circle.
Now let these pics give you an idea of the scene I was lucky enough
to partake of. ENJOY!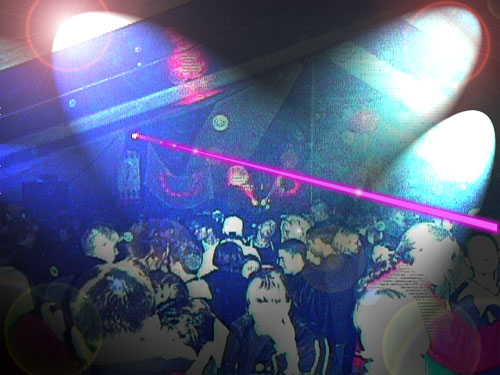 This was the main Party Tent. Great Sounds & Very Ingenuitive Visuals that seemed
to put pulsating light and imagery in every dimension.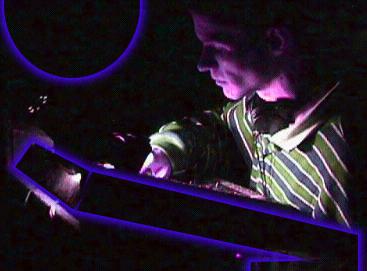 This is Kevin from Tyler, the Ambient DJ in the Hanger Room. Nice gear! I haven't seen a
cd mixer setup within 20 miles of D-Town ever! Sweet Orbit system!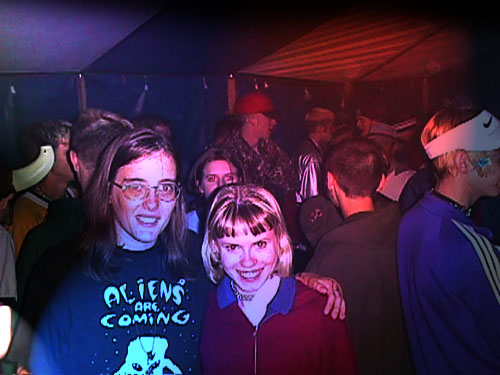 This is my good friends Julie and Dianna...aww..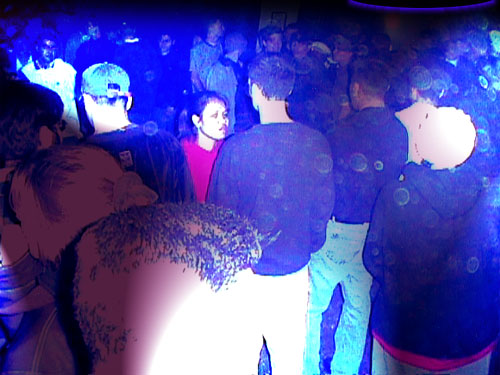 This was people chillin out among the other explorative zones.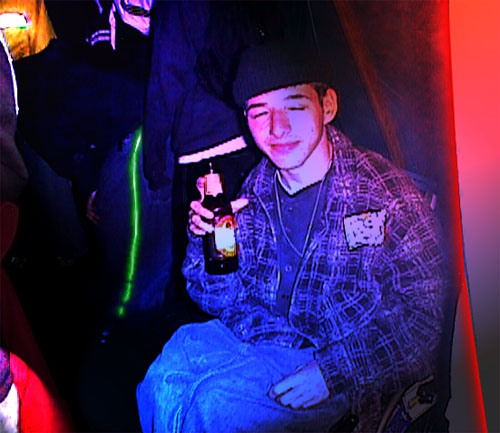 This was the wheelin raver,Mark. Mr. Wheels! Later some fine folks
attached glow strings to Mr. Wheels tire grips and he was one with the glow.
Oh also the neon green ya see behind him, Some creative fellow thought to
custom order and sew fiber optic strips to his baggies, two strips running
on two AA bateries I believe. NICE!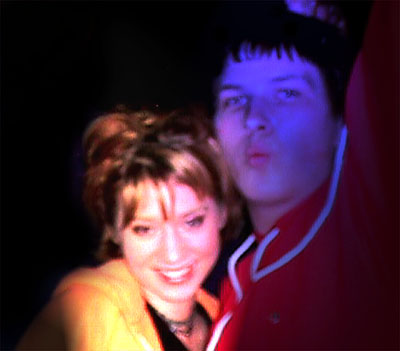 This is an oldy friend here in Dallas also, The Cutesy Tamera and a friend.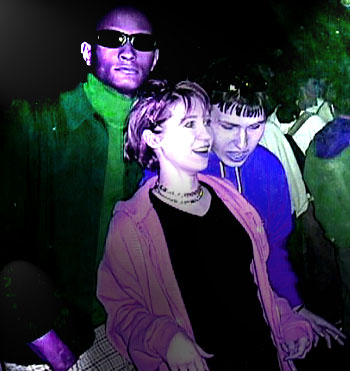 Here's Tam again, she just saw god! Here with one of the oldest club fiends in the metroplex,
Soul face withthe shades, Andre. And again the guy I don't know. =)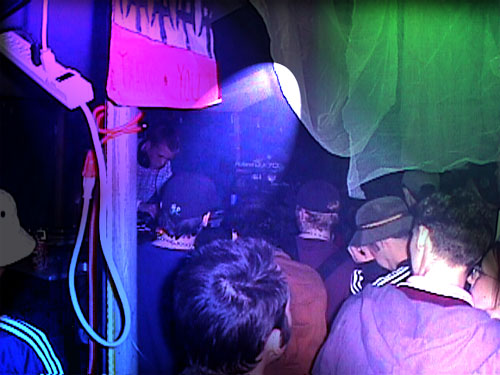 Good Shot in the main tent you can kinda make out the dj, also had an
extra keyboard soloist named Turtle doing added tingles.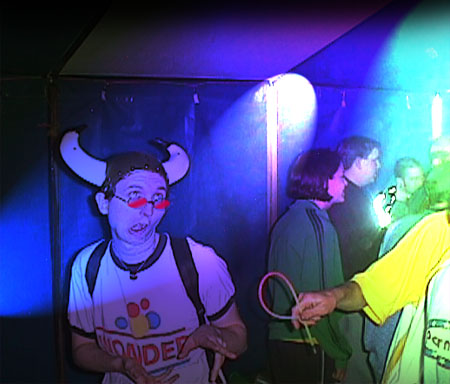 This was another kooky vibeacious minion of good, Bullwinkle! er no.. Farguar! from the Dallas area.
Hope to see ya at some parties here at the casa, Farg!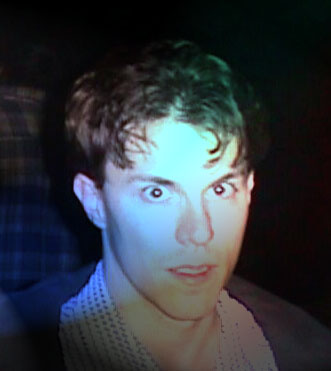 Heya Jordan! "Gee, you have Big Eyes!!!", said Goldielocks. Glad you made it mohn!
This is Tamera's Roomie!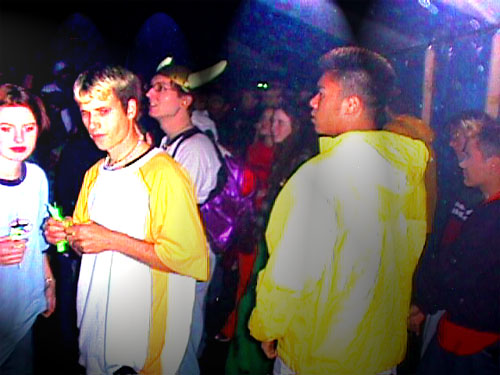 The couple on the left were some shiney happy people I enjoyed meeting! I think I got them during an
introspective moment, or maybe one of those unbearable moments of silence. "hmmm..."
Seems Farg sneaked into the background as well. *grin*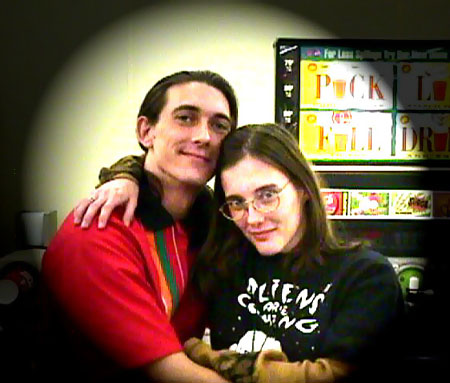 .
Aw this was just too lovely to omit, even though it was technically taken at 7eleven after Sumo,
here in Dallas off Greenville Ave, next to Wholefoods. This is Julie and her sweet guy boyfriend. My honored
Sony Playstation compadre and cool neighbor, Todd. He's always working the graveyard on weekends at 7E central.
Stop in and say Hi! Oh yea, the Slurpy Machine is my good friend too!
.
This seemed the perfect picture of a Happy Ending
to the page and the evenings events as I returned the maiden to the King before heading home alone to write
this, sleep, and dream of finding a Lasting lady myself one day.
.
.
.
.
.
Well that's all I got that came out worth a damn at Sumo. I have pics of Zenfest, The Largest techno event
in the U.S., which went down last Labor Day weekend in Florida. I'll put them up soon. As well as try to dig up
my old pics taken at the first Zulu Rave in New Orleans. I also got some pics from LOVE in Europe, I'll have up
soon, so check back here, and also check the Events area for parties here at my house next to Lower Greenville Ave.
.
PEACE LOVE UNITY & RESPECT!!!